Chinita Mexican Restaurant Bangalore
Hola people! cómo estás hoy? (Read: How are you doing today?) Yup it's Spanish, the language spoken in most part of Mexico. This brings me to Mexican food.
Today it's Chinita, Mexican restaurant Bangalore review. This little place tucked away and won't be visible easily. But it's one great find.
It situated on a terrace and has multiple picnic benches, different from your formal tables and chair. This setup and the smiles that greet you make this a laid-back, friendly and really enjoyable place. But, evening and weekends especially, it will be crowded! I guess this is why they have recently expanded the restaurant towards the back.
I firstly love Mexican food as it allows great choices for vegetarian peeps. And Chinita restaurant is no different. The best thing I love about this place is its menu. It's limited and anything you ordered is always good! It has lots of vegetarian options to choose from.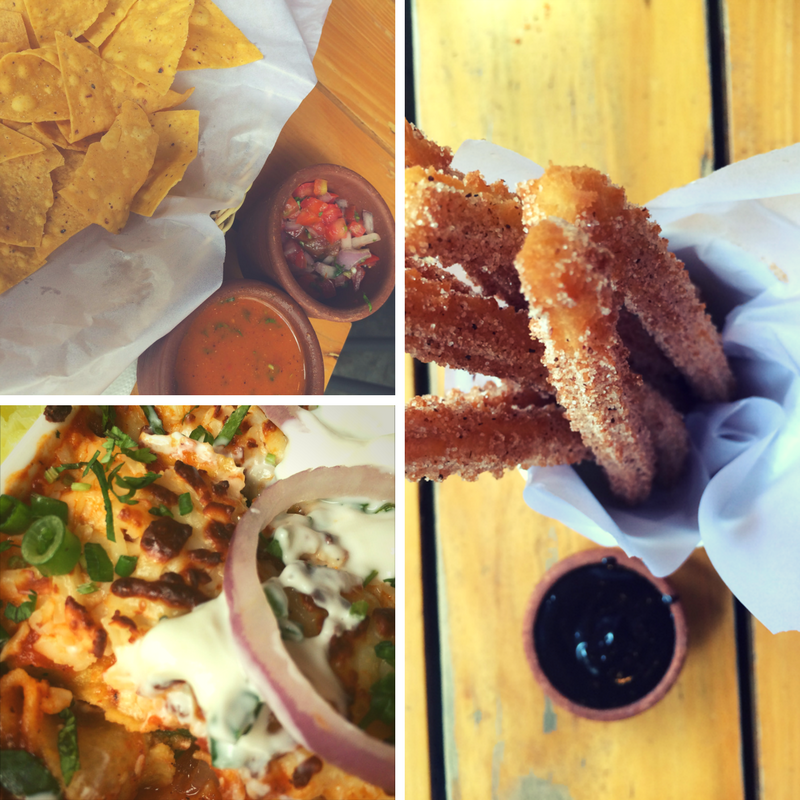 My friend and I recently visited this place for lunch. For starters, we ordered the grilled corn and tortilla chips & salsa.
Grilled Corn is a yummy dish if you love corn! The corn is served on the cob, smeared with cheese and chilli. Mind you these can be filling! Whereas the tortillas are served with pico de gallo (chopped tomatoes & onion salsa) and roasted tomato salsa. The chips and salsa are all fresh and homemade which is why this tastes so divine.
As we were stuffed with started we ended up sharing the main 'Enchiladas'. This is a super yummy baked tortilla dish in tomato salsa with different options for main ingredients. For veggie people, they have Green pepper & onions (which we chose) and zucchini & corn.
Enchiladas were simply superb. It packed tonnes of flavours. The zesty tomatoes with sour cream and spicy jalapenos make it an awesome dish. I would definitely recommend this!
Although I was really full after the main course how can you not eat the churros!! These are on the MUST TRY list! They make it fresh and that's the best way to serve it. Hot encrusted with cinnamon sugar served with decadent chocolate sauce…. a perfect end to a perfect lunch.
I have been to this place before as well and had the Veg Quesadillas, Nachos and Burrito bowl and all of it was simply amazing. I keep coming back to this place thanks to the flavourful food that they produce. Here are my ratings…
Chinita Restaurant
Cuisine: Mexican

Opening Hours: Tuesday to Sunday 12:30pm — 3:30pm and 7:30pm — 11pm
Monday is Closed

Address:
No.218, Double Road,
Near BDA Complex, Indira Nagar,
Bengaluru, Karnataka
560038

Telephone:080 4163 7107
Website: www.chinita.in
Map: Location

Price Range: Rs1000
Takes Reservations: Yes
Ambience: 3/5
Service: 4/5
Food: 4/5
Price:4/5
Overall:4.5/5