How to make pizza dough at home
Who doesn't love pizza!! A gorgeous Italian mouth-watering dish which has reached nooks and corner of the world. Pizza is best had when it's fresh and hot. The best part is that you can make as many variation as you want. This recipe is an easy and you can enjoy 'just out of the oven pizza' in the comforts of your home. Try making pizza from scratch and I am sure you will be thrilled with the results.
Prep Time:20 minutes
Cook time:1 hour
Yield: 2 8" pizzas
For the Dough:
All Purpose Flour (Maida) – 100 gms

Yeast – 3 gms

Sugar – 2 gm

Olive oil – 13 gm

Water- 50-60 gms

Salt – 2 gms
For the pizza sauce: Click here (when I made this pizza I already had some leftover sauce)
For Pizza Toppings:
Sliced Tomatoes

Fresh basil

Olives

Paneer

Mozzarella Cheese

Or whatever your heart desires
Keep the Pizza Sauce ready before the dough as it will cool down by the time the dough is done.

Pizza Dough Recipe:
Combine all-purpose flour, yeast and sugar. Using water knead this mix into a dough. Use little water at a time. If you feel the dough is very dry you can add little more water. Keep kneading till the dough is nice and stretchy. (See pics below)
It's important for the dough to be nice and elastic. You can check it by doing window pane test. Take a small dough ball (size of a marble). Flatten it and stretch gently. Keep pulling till it becomes thin. So thin that it is opaque and you can see your finger through it. If the dough tears, then you need to knead more. (See pics below)
Once you have is ready add oil and knead. All little oil at a time. You will feel that it is not coming together, but keep kneading until all the oil is used. (See pics below)
Now take ball of the pizza dough and roll it out in a circle. Use your fingers to form a side crust. I placed my dough in a pan to make it a little deep dish style. If you want a thin crust pizza, then spread the pizza dough out and place it on the reverse side of baking tray. Ensure you spread some semolina on the baking tray before placing the pizza dough.
Now spread the pizza sauce on top of the dough with help of a ladle in a circular motion.
Now let the dough proof for 20 mins. Most of us don't have a proofing machine, so you can place it in dry warm place. The dough will rise slightly.
When dough is proofing, pre-heat the oven at 200°
Once done, add your choice of toppings. You can whatever your heart desires.
Now the best part, grate mozzarella cheese GENEROUSLY! Haha
Bake the pizza in a pan or on a tray for 10 -12 mins.
Once done, cut and enjoy all your hard work!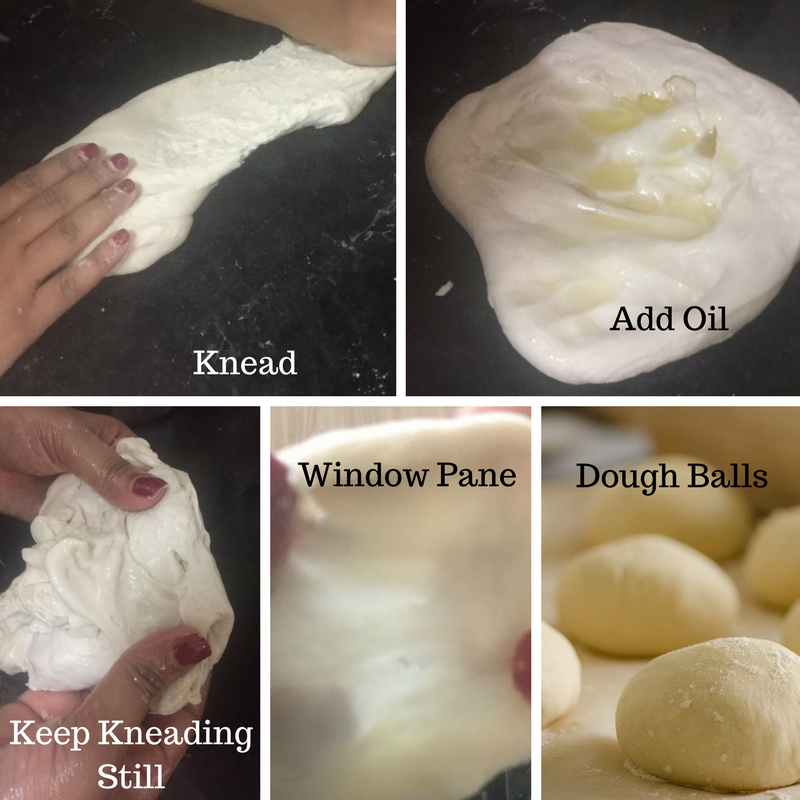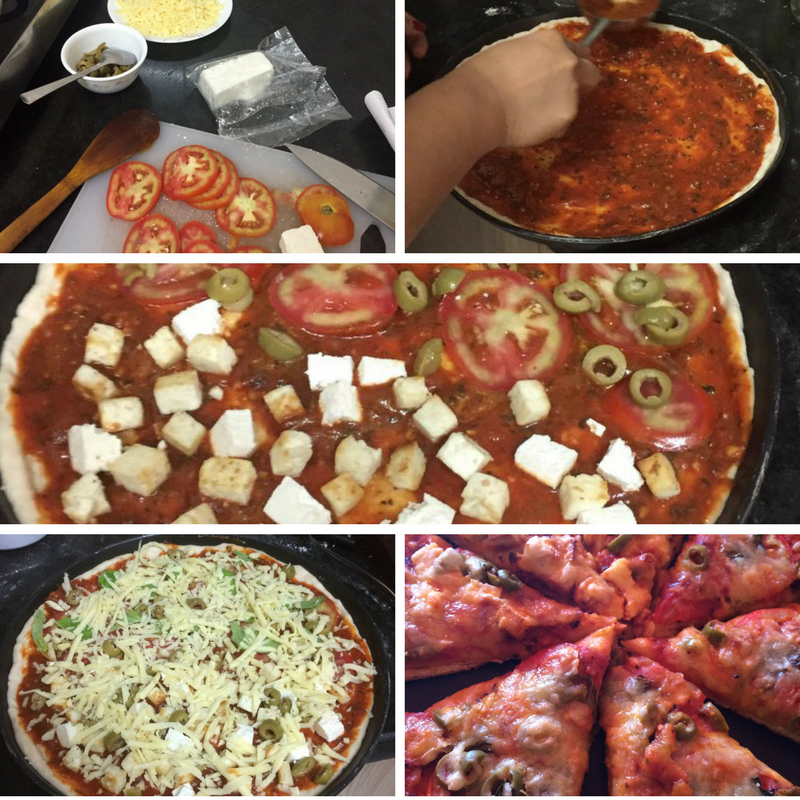 By Madhur Phadnis,